Pick up from from in Casablanca
Transport in comfortable A/C car
English speaking driver / guide
Accommodation in hotels / riads
Dinners and breakfasts
INCLUDED IN TOUR :
CONTACT US AND BOOK YOUR MOROCCO TOUR TODAY !
TO CALCULATE CORRECT PRICE , PLEASE , TELL US
How many people travelling with you on private tour
Tell us approximate date of your travel
Tell us the pick up and drop off point / city (if different as stated in program of this tour)
Plane tickets to and from Morocco
Lunches and drinks
NOT INCLUDED IN TOUR :
DAY 1 :
CASABLANCA – RABAT - FES :
Morocco Casablanca Tours organize this tour every day during whole year. Casablanca 4 days tour starts today and we will meet you in the airport or in your hotel in Casablanca and drive to Fes passing by Rabat and Meknes. If the time allow us ,we can make short stops to visit the important places in those cities as well as the Roman ruins then it's on to Fes where you'll arrive in the evening. After long day we relax in comfortable riad / hotel with tasty dinner.
DAY 2 :
EXPLORING FES :
We continue our tour from Casablanca and the whole day is devoted to visit of Fez the spiritual capital: the Medieval Medina, , the Nejjarine fountain, the Moulay Idriss mausoleum and the Karaouine Mosque (from outside). Optional extra typical lunch at a traditional restaurant in the heart of Medina. Afternoon visit of the souks and Fez Jdid. Overnight in Fes .
DAY 3 :
FES – CHEFCHAOUEN - TANGIER:
Casablanca culture tour continues today and we drive from Fes to Chefchaouen ,called as "The blue city of Morocco". Situated at the footstep of 2 higher mountains, Chefchaouen is a beautiful unique city, with its white washed walls and blue doors and windows. Unlike many parts of Morocco, Chefchaouen was occupied by Spain; therefore there is much influence from the Spanish civilisation and Moorish architecture. In the afternoon you will have your own time. Then we continue to Tangier where we stay overnight.
DAY 4 :
TANGIER - ASSILAH - RABAT - CASABLANCA
Today we explore Tangier and the we drive to Assilah on Atlantic coast. We continue to Rabat where we explore main sights. Then we departure to Casablanca. Optional lunch at local restaurant on arrival. Afternoon visit the Central Market, the Habous district, Royal Palace, Mohamed V Square, the residential area of Anfa and the outside of Mosque Hassan II. That's the end of our Casablanca 4 days tour.
Thank you for taking the private Morocco tour with us, we wish you safe return back home.
MAP 4 DAYS NORTH MOROCCO TOUR
PROGRAM 4 DAYS TOUR FROM CASABLANCA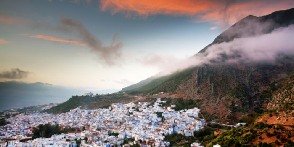 If you require this private Morocco tour, please help us to deal with your request promptly and efficiently by giving us as much tour details as possible. If you are booking this Morocco tour within next 24 hours, or have an really urgent request, please do not hesitate to call us on or you fill up the contact form directly.
Please keep in mind that this Morocco desert tour can be modified depends on your requirements.
4 DAYS NORTH MOROCCO TOUR FROM CASABLANCA WITH LOCAL GUIDES, INCLUDING ACCOMMODATION, DINNERS AND BREAKFASTS.
Morocco Casablanca Tours - TOUR FROM CASABLANCA
CASABLANCA CULTURE TOUR